At 8:00 am. of Nov. 26, 2019, Foxtech Technical team drove from company to an area in BaoDi for a mapping and surveying mission. The goal of this mission is to do 1 sq km area ground mapping, then provide a full pixel 1:150 DOM (Digital Orthophoto Map) and DEM (Digital Elevation Model), and an all-factor DLG (Digital Line Graphic), which will provide geographic information reference for clients that want to build a drainage system.
Customer Requirements:
The water system in the target mapping area is developed, there are rivers nearby, and the village is surrounded by pools. However, there is no sound drainage system in this area, and a large amount of sewage is discharged directly into the pools. In order to reduce water pollution, the local authorities decided to build a drainage system in this area.
Therefore, aerial mapping should be carried out before construction to obtain local surface information, spatial layout, building distribution, road layout etc. Then generate a full pixel 1:150 DOM, DEM and an all-factor DLG, provide sufficient geographic data information reference for follow-up implementation process.
Preparation before flight:
According to the KML/KMZ files provided by clients, technicians first investigated this area, systematically analyzed land elevation changes, terrain and building density etc. Then prepared for the route planning, and chose a good day to start mapping.
2 technicians from Foxtech participated in this surveying and mapping mission.
Mapping Equipment: GAIA 160s Hexacopter equipped with Map-01 mapping camera, RTK System.
GAIA 160S: a high efficiency battery-powered flying platform for surveillance, inspection and survey. Max take-off weight is 17kg. The Max. flight time with four 6s 16000mah li-ion batteries is 110 min. Gaia 160S hexacopter features good stability, reliability, quick response to commands, simple operation.
Map-01: with 24.3 MP effective pixel, 6fps continuous shooting, 30-1/4000 sec shutter speed, ±3EV exposure compensation. Connected with PPK/RTK system to ensure a centimeter-level accuracy .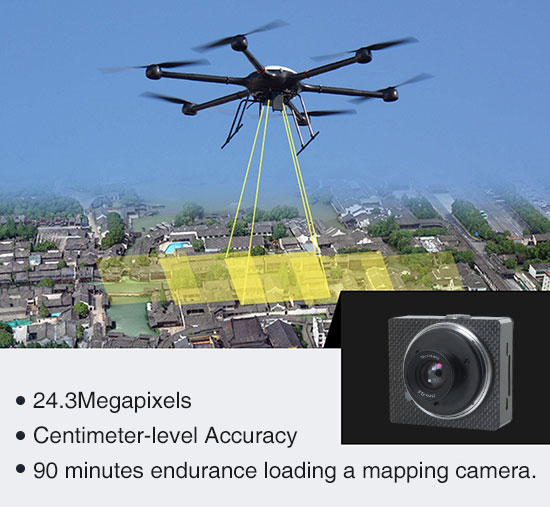 Technicians planned the flight route through Mission Planner, the drone flew according to the S- type planned route. Based on the previous analysis of surveying and mapping area information, the values of the aerial survey parameters are set as follow:
Flight altitude: 100m; Airstrip spacing: 27.9m; Photo interval: 12.4m; Overlap: 80%; Sidelap:70%.
The overall check of the equipment is the necessary process before each mission. Technicians carefully checked each detail to ensure that the mapping mission would be quickly carried out after reaching the target mapping area.
On the day of departure, the weather was pretty good, which is suitable for surveying and mapping. At 8:00 in the morning, all the equipment was prepared, then the Technical team set out.
A lot of time was saved on the way because the mapping site is not far from company. Technical team drove about one and a half hours to reach the target mapping site, then checked obstacles in surveying and mapping areas around the target mapping site.
Select a wide,less crowded area as the done take-off and landing site. Then, technicians began to step by step prepare for the flight: set up RTK station, check whether the hot shoe signal can trigger normally, quickly assemble the GAIA 160S flying platform, check the datalink and remote control signal, set the shutter speed, ISO and other values according to the weather conditions of the day, check if the memory card is reset etc.
Everything is ready, GAIA 160S began to fly according to the pre-planned route. The RTK system was used in the whole process to ensure a centimeter-level accuracy of aerial survey.
The mapping flight lasted 120 minutes, flew two sorties.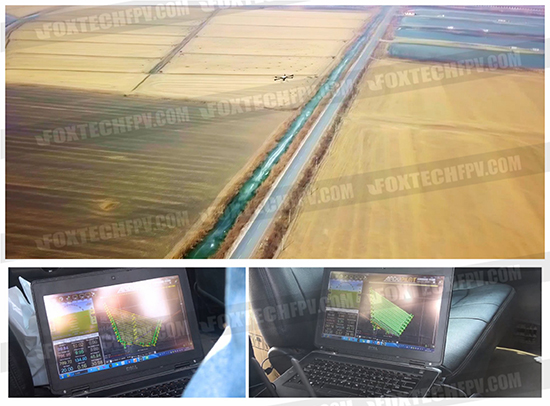 After the flight, technicians used RTK ground station to take  sample of photograph control points in the mapping area. Technicians pre-processed the images to make sure that the image and the POS are completely coincident with the mapped area.
In this mapping mission, GAIA 160S equipped with MAP-01 mapping camera showed its accurate and reliable performance, which makes the whole mapping task much easier.
Post-processing:
In the post-processing stage, technicians used RTK POST System to process the differential data, made point cloud modeling with PIX4D. After a series of post-processing, technicians finally got a very clear orthographic map, with which the client is very satisfied.
DEM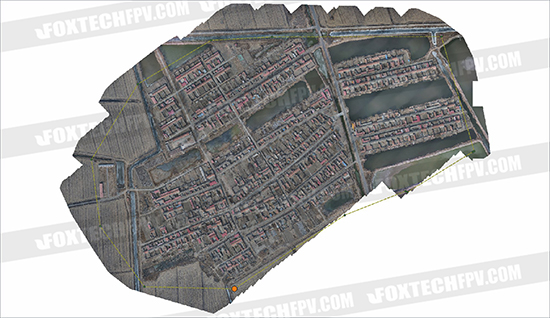 DOM